Customised baked goodies in Manchester City Centre
Personalised Cakes and Cupcakes in Manchester
Based on the edge of Manchester city centre, we freshly bake all our products from scratch, and decorate them by hand.
We take great pride in our work and are always up for a challenge. If you've got an idea you want turning into cake, get in touch and we'll see what we can do!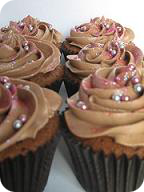 Cupcakes
Our cupcakes are custom made for you. We can provide anything from a gift box to a stunning cupcake tower. Prices start from £1.75 per cupcake.
See our full cupcake range.
Wedding Cakes
From a traditional tiered cake to a cupcake tower, we can help you design the cake of your dreams on a realistic budget.
Celebration Cakes
There are many occasions that deserve a lovely cake and we can make anything from the traditional to the novelty. Prices start from around £40.00.
See our past creations for ideas, or contact us for a quote.
Other goodies
We don't just do celebration cakes and cupcakes you know! Our ever-expanding range of other baked goodies includes our delicious brownies and cake pops.